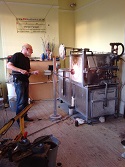 Links

Richard Golding, founder of Okra Glass in 1979, opened his glass studio in Shenton Station at the end of the Battlefield preserved railway line in 2010.

At the Station you find Richard`s state of the art studio and gallery where you can sit, watch him make glass and buy unique Station Glass Creations. The Station has become a hub for people with a passion for glass, friendship and peace. Richard now has the ideal place for him to experiment and make glass in a way he dreamt of for many years.

http://www.balmaidenstudioglass.co.uk/

Noreen Todd is a studio glass-maker make unique glassart. She loves to pass on her expertise to would-be and fledgling glass-makers, and to this end has introduced a range of introductory courses in glass making at her studio, Bal Maiden Studio Glass.

She has worked and trained with some of the most widely respected glass makers in the UK and abroad. At the age of 62, Noreen is a relative newcomer to the world of glass making, having taken this up as a hobby 10 years ago as a foil against her hectic professional life as a Chartered Accountant. She has now opened her own glass studio and gallery in Cornwall and is extremely active in kiln-formed glass making. Noreen is now introducing hot-worked glass and glass-blowing into her studio.

http://www.smithbrookglassblowingstudio.co.uk/

Smithbrook Glassblowing Studio is located at Smithbrook Kilns in Cranleigh just 5 miles south of Guildford set in an attractive rural setting in the heart of Surrey.

The studio has both a hot and cold glass workshop, comprising all the energy efficient equipment needed for high quality glass making, including furnace glory hole and annealing oven.

There is a cold working room for grinding and polishing for the finishing stages of the production process.

The relaxed viewing area provides the visitor an opportunity to see this exciting work being made. The Studio is easy to find on the A281 with free car parking. On site is a restaurant/coffee shop and a wide variety of specialist shops, workshops and other enterprises. The nearest mainline train station is Guildford and nearest local train station is Shalford. Buses stop right outside Smithbrook Kilns entrance.

For those new to glassmaking a visit with prove an excellent introduction to the traditional skills of the glassmaker and an insight into the historical significance of glassmaking that go back 4000 years.
has been completely upgraded from Version 3 with fully illustrated new chapters on batching, fuming, casting, annealing, fusing, pâte de verre, sand casting, and more. You will also find illustrated information on furnace heat recuperation written by the two experts in the field, Charlie Correll and Hugh Jenkins. Alicia Lomné has written a fabulous section on pâte de verre. Pete VanderLaan tells us how to batch glass and set up a batch room. Dr. Frank Woolley presents us with information on stress and what happens when glass goes bad and what caused it. If you're a sand caster I reveal a new trick on how to achieve clean glass surfaces. All the other sections have been rewritten with new and upgraded illustrations, charts, and photographs. Detailed illustrations on how to build day tanks, pot furnaces, annealing ovens, glory holes, a garage, a battery powered pipe cooler, Tom Ash's square glory hole, the ever popular HUB IFB glory hole, it's all there in this edition of Glass Notes. Find where to purchase tools and all sorts of materials for your glass studio along with web sites and e-mail contacts.
If you like the plans for the ultimate day tank in Glass Notes I have a page on this site that tells you where you can get the liner. AZS Day Tank Liner.