Everything on this sight is the truth
"MERLYN'S" MULTI-PURPOSE ANCHOR BOLT (MMBOLTS)
This story tells you first about the fixing and how it works And then explains how
 Black & Decker RIPPED ME OFF 
A REVOLUTIONARY NEW CONCEPT IN ANCHOR BOLT TECHNOLOGY MMBolts are truly multi-purpose, heavy or light duty anchors that CAN give you a fixing in:- ALL CONCRETE - LATAG CONCRETE - STONE - BRICK ALL BLOCK WORK - AND EVEN WOOD ALSO giving the following benefits: * Variable Embedment Depth * Non-corrosive properties * Inbuilt Security Applications * Superior Tensile loading (up to 5T !) * Superior shear loading * Anti-vibration properties * Huge Financial savings HOW CAN SOMETHING SO SMALL AND SIMPLE BE SO STRONG AND EFFECTIVE (ACTUALLY) IT ISTHE UNIQUE INTERACTION DESIGNED TO TAKE PLACE BETWEEN ALL THE COMPONENTS AND THE HOST MATERIAL THAT MAKES MMBOLT THE MOST TECHNOLOGICALLY ADVANCED ANCHOR BOLT YET DEVELOPED. MMBOLTs REALLY DO WORK IN HOLLOW POT FLOORS INDEPENDENT DESTRUCTION TESTS DESTROY THE CONCRETE AT 1.5 TON AV. NOT THE MMBOLT. MMBOLTs REALLY DO WORK IN HOLLOW BLOCKWORK. VARIATIONS IN BLOCKS & STRENGTHS MAKE LOADINGS IMPOSSIBLE TO QUANTIFY MMBOLTs REALLY DO WORK AS A CHEAP SECURITY DETERRENT
NO OTHER SINGLE ANCHOR BOLT CAN BE USED IN ALL OF THESE SITUATIONS- MMBoltS CAN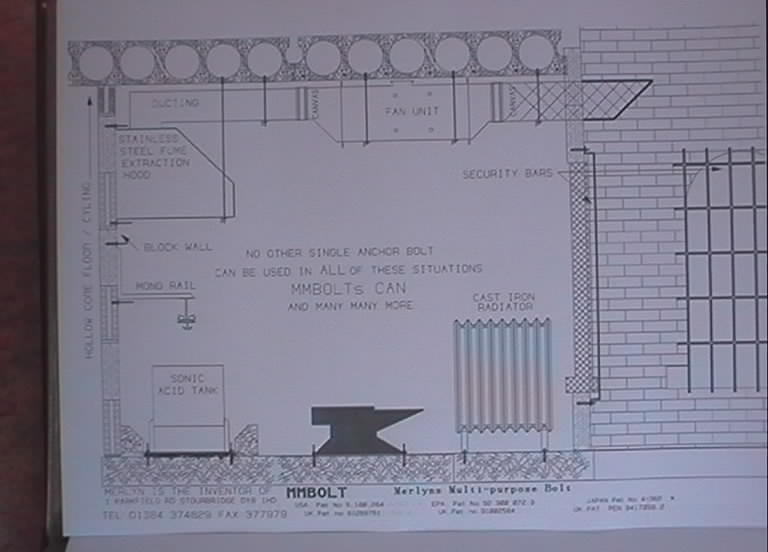 AT LAST AN ANCHOR BOLT RECOMMENDED TO BE USED IN HOLLOW CORE FLOORS AND MMBolts ARE CHEAP ENOUGH TO BE USED AS A LIGHTWEIGHT FIXING WITH THE FULL BENEFITS OF A HEAVY DUTY ONE AND EXTREMELY VERSATILE. INDEPENDENT TESTS BY LAING TECHNOLOGY GROUP LTD PRODUCED AVERAGE FATAL LOADINGS ON 35mm LONG 8mm MMBOLTs OF 1.5 TONs. THE MMBolt FIXINGS DON'T FAIL BUT 75Kn CONCRETE FAILED IN A CONE 2 PLASTIC SLEEVES CAN EASILY BE CUT TO THE LENGTH NEEDED (max 60mm) AND USING ONE METAL SLEEVE ON TOP EXTENDING THROUGH WORKPIECE GIVES AN 8mm MMBolt THE SHEAR LOADINGS OF A 16mm THROUGH BOLT. 3 UNLIKE OTHER ANCHOR BOLTS MMBolts DON'T WASTE EXPENSIVE HEAVY DUTY FIXINGS IN LOW DUTY SITUATIONS. 4 IT IS COMMON IN FACTORIES FOR A DAMAGED FLOOR TO BE SCREEDED WITH AN EXTRA LAYER OF CONCRETE. THIS NORMALLY CREATES GREAT PROBLEMS IN GAINING A GOOD FIXING WITH MMBolt ITs NOT A PROBLEM. WITH THE ADDITION OF TWO PLASTIC OR RUBBER WASHERS, ABOVE AND BELOW AN EFFECTIVE ANTI-VIBRATION UNIT IS ALSO ACHIEVED 5 USED WITH HIGH TENSILE BOLT PRE-SETTING MMBOLT WASHERS WITH DRIFT (THREE SLEEVES DEEP (90mm) WITH ADDED METAL SHEAR SLEEVE MMBoltS BECOME A VERY HIGH PERFORMANCE HIGH STRENGTH ANCHOR BOLT. AN INDEPENDENT TEST BROKE AN 8mm 12.5 SET PIN AT 5.4 TONS THE MMBOLT STAYED INTACT IN THE 30Kn LYTAG CONCRETE 6 SECURITY PROBLEMS ? AFTER THE BURGLAR BARS HAVE BEEN FITTED IN THE NORMAL WAY, TAKE OFF THE RETAINING NUT AND ADD AN EXTRA REINFORCING WASHER, WHEN THE NUT IS RE-TIGHTENED THE REINFORCING WASHER IS FLATTENED LOCKING IT ONTO THE THREAD OF THE BOLT, NOW YOU HAVE A CHEAP SECOND LINE OF DEFENCE TO MAKE IT MORE DIFFICULT FOR THE WOULD BE INTRUDER 7 An 8mm MMBolt IS AS STRONG AS A CONVENTIONAL 12mm ANCHOR BOLT AND BECAUSE THERE ARE SO MANY WAYS OF USING THE UNIQUE MMBolt COMPONENTS IN CONJUNCTION WITH STANDARD ALLTHREAD - BOLTS - CAP SCREWS - NUTS - WASHERS - ETC (all in varying lengths, strengths, or in stainless) We supply MBOLT in Kits
 Black & Decker RIPPED ME OFF 
In November 1990 I arranged to demonstrate the power of MMBolts to Tucker Fasteners (Black&Decker) in their test centre in Birmingham. I had arranged to put a number of my fixings into a piece of their test concrete and allow them to apply a lethal load and note the better strength without them examining them. But, I was then informed by Basil D.P.Wetters EMHART INC. (B&Ds Parent Company & Patent Lawyers) that I would have to file a patent application before they would sanction a demonstration. I made it clear that even if I spent a lot of money with a patent agent, I was not confident that a patent application made by me would fully cover the unique invention. They told me that it would not matter because if they liked what they saw they would want to enter into an agreement and they would be able to alter the application later and anyway I could then do a proper demo and give them a copy of my patent application.
IN HINDSIGHT I FELL FOR IT
On the 7/1/1991 1000hrs I was at Tucker's test centre when my son filed the application in London and phoned me on the mobile brick (I had one of the first, a big heavy thing). I then made the normal mistake and gave them a copy of the patent application and we did some tests. It was agreed that MMBolts proved to be 50% stronger and they said it would take 2/3 years to bring into production and it should take 25% of the world market but it will take a few weeks to evaluate and work out the best strategy. Now it was coming to the end of the GULF WAR with Saddam Hussein threatening to blow up the oil wells and I had in the principle of MMBolts a method to put out the oil well fires and put into operation DESERT CALM KUWAIT.
Me in Kuwait
( www.pielectronics.co.uk to see why I lost £10k on that project) It was eventually 6/8/1991 when an agreement was signed by Mr B.J. McGinity Managing Director Tucker Fasteners B&D, and me, the main points being an upfront non-returnable payment of £15k providing that £7.5k would be deducted from the first royalties, 3% royalty to me for 10 years from the first sale. I had to assign the patent to EMHART INC. Delaware (US) and leave the development and world patenting to them. Well if you haven't got your calculator out yet I will do it for you but you first need the last part of the equation and that is the world market for heavy duty anchor bolts was around £500m py. So 25% of £500m=£125m 3% of £125m= a royalty to me each year of
£3,750,000
(Three million seven hundred & fifty thousand pounds) PER YEAR for 10 years
I again volunteered to help develop the product but my offer was declined "We are experts and have an R&D place in France run by Robber (Robert) Anquetin" a Frenchman. With £15k in my pocket and a signed agreement I retired from being a ductwork erector and invited Colin to become my partner and we set about INVENTING "THINGS" (that's another few stories). Keeping this story short, two years later I was informed by the NEW managing director of Tucker Fasteners that he had a memo from France saying that "MMBolt tests gave negative results" (I obtained a copy and still have that memo - it is signed by R.Anquetin) I had a meeting in Birmingham with him and his own staff pointed out that they had done the first tests with good results. I arranged to re-do the tests with my improved MMBolts and I videoed the tests again at their test centre and now gained 75% stronger results. A month later they conceded the results but declined to continue with the agreement contending that the market place had changed and MMBolts would not fit into their product range now. WHAT DO YOU THINK HAPPENED NEXT? Well I have a copy of a B&D patent published 18/11/93 priority date 13/05/92 Application number 93303571.9 Applicant EMHART INC. Delaware (US) Inventor Anquetin Robert Paul 15 Rue Jean-Sabastien Bach Etrechy,Essonne (FR) Representative Mr Basil D.P.Wetters EMHART Patent Department - and would you believe it "The basic concept of MMBolts is an integral part of it". Yes, you can believe it THE B******s. It did NOT infringe my patent (well it wouldn't WOULD IT) . They re-wrote it! The worst is that this DERIVATIVE was never produced because it was too elaborate and costly to mass produce. I made Tucker keep up the patents for a time and set about manufacturing myself! That's another lesson and story. If you would like me to write it sooner please contact me and request it because it is taking me a long time to sort through all the papers to make sure the facts are correct and you can believe it all.
I have the proof. I have little or no chance of redress other than putting the facts on the WWW and hope that a Lawyer wants to take it up on a no win no fee basis At least it could enlighten other potential victims to stay away from ANY F****** B******* LIKE
BLACK&DECKER