The Stourbridge Lion Loco is a unique mobile hot glass blowing studio, available for education, demonstrations and special events.

Glass blowing is an art form that involves melting glass to high temperatures 1050 C to gather and form the molten glass into different creations,


We can demonstrate and teach the basics, together with the history of the Historical Stourbridge Lion Steam Loco anywhere that suits you.
We Had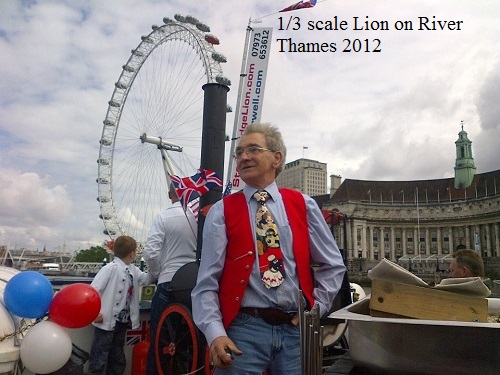 Cruising the River Thames on 4th June 2012
The FIRST EVER time hot glass was melted and hand blown on The River Thames
I Mad / Eccentric Inventor Prof. Robert Merlyn Farwell 65 blew one clear and one red white and blue glass sphere while cruising on the River Thames. In later videos I and PROPER glass artists had a play and made more stuff.
Namely :
Richard Golding www.stationglass.co.uk
Vic Bamforth www.vicbamforthglass.com
Ian Bamforth www.ianbamforthglass.com
Jake Mee www.jakemeeglass.com
Kayleigh Young www.youngsglassdesign.daportfolio.com
Charlotte Clark www.charlotteclarkglass.com
Anona Wyi www. anonawyi.com

A bostin Day Out - - - - - - - - - Ruthlessly Edited
Video 01-First Glass melted and blown on the Thames
Video -02 -Merlyn - Abondoned in Greenwich